If you are into growing your own food, consider increasing your understanding on how to harvest coriander for all your cooking needs.
Not only is it a super valuable addition to any kitchen garden, but it's also surprisingly easy to grow and harvest.
With our step by step guide, you'll be able to instantly start reaping the benefits of fresh coriander for all your dishes.
If you love coriander and cilantro, you may want to consider growing a few plants in your garden and harvesting coriander seeds for various culinary applications.
Most tend to grow this famous herb for its leaves, but its delicious coriander seeds are worth harvesting and taste nothing like cilantro leaves.
And don't worry about any pain or effort – harvesting coriander is a completely effortless and pain free process.
Trust us, and once you discover the taste of freshly harvested coriander, you'll never go back to store bought again.
Harvesting involves a relatively simple process; with the right guide and equipment, you'll soon become a pro at how to harvest coriander the right way.
How to Harvest Coriander
Harvesting green coriander seeds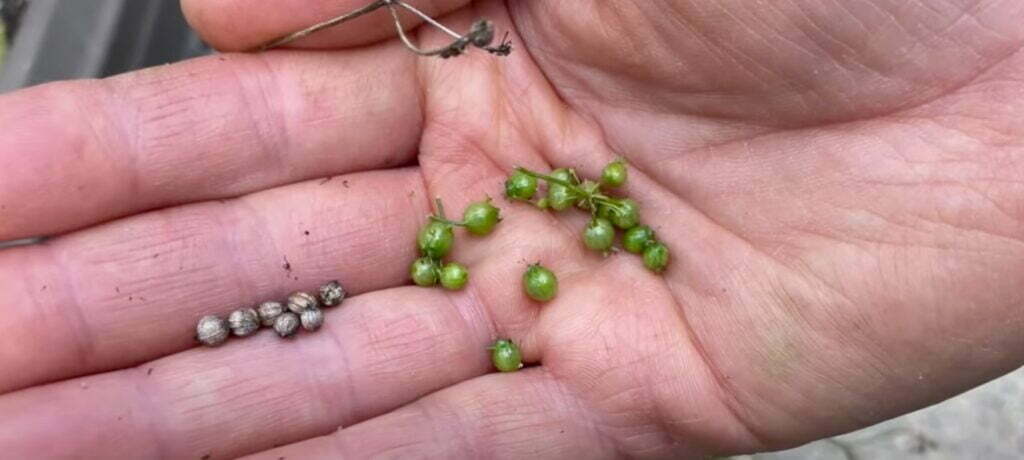 The seeds can be harvested when they are young and bright green, or you can wait to harvest them until they turn brown.
Harvest them at the green stage for a sharper and more pronounced flavor.
You can clip branches with a pair of garden clippers or even sharp kitchen scissors.
The seeds keep in the refrigerator for a couple of weeks if stored in a lidded glass container, and they freeze well too.
Experiment using green coriander seed in marinades and dressings.
---
Recommended Product: Professional Hand Pruners, Garden Clippers
No products found.
All of the Gonicc pruning shears adopted high-quality materials and strict quality control.
The blades made with Ultra-fine Polishing Technology and Teflon or titanium coating, very sharp and prevent tree pulp adhesion caused by rust on the edges.
Handle material is high-quality Aluminum and wrapped with a layer of PVC, very soft and comfortable to use.
Features:
Premium Titanium steel blade
Drop forged body and handles
Ergonomically designed
---
Recommended Product: LIVINGO Premium Scissors
No products found.
These strong crafting scissors are lightweight and have a soft-grip handle. They are strongly resistant to rusting and adhesives such as glue and tape, making them ideal for almost any task.
Also, offer an ergonomic design for precision control and max comfort—ideal for cardboard, fabric, leather, carpet, canvas, denim, rug, and so on.
Features:
Anti-rust Titanium treatment
High-density hot forging steel
---
Harvesting brown coriander seeds
If you'd like to harvest the mature brown seed to plant next year or grind and use throughout the winter, wait until most of the origin turns brown.
Then, clip off the seed heads along with a few inches of stalk and hang them upside down in a brown paper bag.
When the seeds are dehydrated, they will fall out of the heads and into the bottom of the bag. Store the dry grain in a lidded glass jar in a cool, dry location.
For the best flavor, grind it right before use.
Additional Tips on How to Harvest Coriander
To harvest coriander seeds, cut the stems when about half of the seeds have changed from green to grayish-tan.
Immature seeds will be a green color. You can harvest them at this stage and use them for cooking.
To harvest coriander that will keep for months, wait until the seeds have turned a light brown color.
Dump the seeds into a dry pan, sort them by hand, and store them in airtight glass jars until you're ready to plant or eat them.
Coriander seeds are usually ready to harvest about 2-3 weeks after the plants' flower. The best way to tell them they are ready is to keep an eye on their color.
Most Common Questions on How to Harvest Coriander
Is there a difference between cilantro and coriander?
In a few words, cilantro is referred to as the plant's leaves, while coriander is the seed. Both come from the same plant and are used as spices for cooking.
Do coriander and cilantro taste the same?
Not at all. Coriander's flavor is unique; citrusy, and slightly nutty, and it pairs very well with beans, lentils, rice, and roasted or grilled vegetables.
When to harvest coriander seeds?
The plant's round, lobed leaves turn feathery as it lengthens up towards the sky. Pretty masses of small white flowers soon appear.
These nectar-and-pollen rich blossoms attract tons of pollinators, especially honey bees and syrphid flies.
As the blooms begin to fade, tiny, round, green coriander seeds appear.
The seeds can be harvested when they are young and bright green, or you can wait to harvest them until they turn brown.
How do you harvest coriander, so it keeps growing?
Harvesting cilantro coriander is pretty simple. In commercial agriculture, entire plants are harvested, but it is recommended to harvest just what you need so your plant will keep growing.
To harvest coriander plant at home: Using scissors, snip off whole stems right next to the base of the plant.
In general, it's best to work from the outside stems because the outer stems are the oldest.
Does coriander grow back after cutting?
Cilantro coriander that is cut back entirely will eventually grow back, but we recommend cutting just what you need at a time to encourage robust growth.
If cilantro is grown under ideal conditions with regular harvests, the same plant will keep producing for many weeks.
How do you harvest coriander without killing the plant?
All you need to do is take a few cilantro leaves, tie them up together in a bunch using a string and hang them upside down in a well-ventilated area.
Once they're dry and crumbling, store them in an air-tight container, like a glass jar.
Since your goal is to harvest without killing the entire plant, make sure not to harvest more than ⅓ of the plant to give it a chance to retain its strength and further its growth.
How many times can you harvest coriander?
It would help if you were harvesting cilantro about once a week. If the plant is growing well, you can harvest more often.
Either way, you'll need to harvest the cilantro at least once a week to help stave off bolting.
How do you store coriander?
After harvesting, gather the coriander stems together in small bundles.
Fasten them together with a rubber band or some twine, and place a paper bag over each bundle.
Hang your bundles upside down somewhere that's warm, dark, and dry.
It should take about 2 weeks for the seeds to dry completely. Some of them will fall off into the paper bags.
You can try brushing the seeds off into a container with your fingers, or roll them gently in a paper towel to get the seeds to separate from the stem.
Once seeds and stems are separated, store your dried coriander in airtight glass containers.
Store coriander somewhere dark and cool. Keep the seeds whole until right before cooking or using them.
---
Recommended Product: Ball Regular Mason Jar
No products found.
Ball regular mouth quart preserving jars are ideal for fresh preserving recipes such as sliced fruits and vegetables, pickles, tomato-based juices, and sauces.
These jars are BPA-free. These famous glass jars and closures go beyond fresh preserving to help you serving, creative décor, and gift-giving.
With new and improved sure tight lids, which helps keep canned food sealed for up to 18-months.
Features:
BPA-free
Dishwasher Safe
Reusable
Also Read: How to Harvest Horseradish
How To Harvest Coriander Video